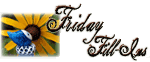 1. Follow the
Leader
.
2.
My digital camera
is something I always take with me on vacation.
3. To achieve your goals, you must
be organized and stick with it
.
4.
I've been overseas to several different countries and cultures but I haven't been to Europe and REALLY want to go someday
is something I'd like you to know about me.
5. I have a
frog fettish (that's a good thing right...atleast that's what I meant to say- I had frogs on my wedding cake & invites, frog stuffies, frog decor in my house...my nickname is even Toad)
. 6.
Anything that
floats
makes a great pool toy
.
7. And as for the weekend, tonight I'm looking forward to
spending the evening alone with my youngest as the others go to a party
, tomorrow my plans include
working
and Sunday, I want to
go to church before working again
!
Click the image above to read more great Friday Fill-ins!