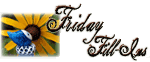 To visit other sites and read their responses just click on the link above. Have Fun :)
And...here we go!
1. I enjoy
...ummm, where do I start...gardening, spending time with my family, baking and/or cooking when it turns out, chatting on MSN with my friends, reading, taking pictures, being creative...just to name a few
.
2.
How come we never seem to get out of debt, where does it (money) all go?!?
is something I wonder about often lately.
3. In your heart, you knew
that was the right thing to do
.
4. Take
charm,
add a little
attitude
and you end up with
my kids
(see next fill-in)
.
5. Life has gifted me with
a beautiful family of red-heads
.
6.
Anywhere I go without my kids in tow
is an instant vacation
(I only work part-time but I call my days/nights at work a "paid vacation"
.
7. And as for the weekend, tonight my plans include
working the night shift
, tomorrow I'm looking forward to
going to an annual staff potluck and not having to cook
and Sunday, I want to
stay awake long enough (after getting off night shift) to go to church
!