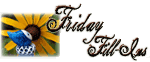 This week's questions are brought to you courtesy of
Michelle.
1. On my laziest day I like to
sleep in and when I do get up avoid housework by surfin' the net and chatting with my friends online
!
2.
Making lists and crossing them off as I go
makes me feel like I'm being productive.
3. I love little
calories
and big
ice-creams
.
4. This summer I want to
visit New Zealand and New Brunswick...and I AM GOING TO!
!
5.
Gentle encouragement from a friend
made me start my blog.
6. Red
is many people's favorite color but not mine
and orange
is my son's favorite color
.
7. And as for the weekend, tonight I'm looking forward to,
not exactly looking forward to but "will be" working night shift
, tomorrow my plans include
getting some sleep in the morning, accomplishing something outside once I get up and before I have to go back to work for another night shift
and Sunday, I want to
go to the Oasis church in the morning and take the kids to the Teddy Bear's Picnic in the afternoon
.