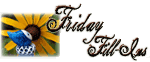 This weeks fill-ins are provided courtesy of
Mindful Mimi
.
1. For me
routine & mundane
is the opposite of creativity.
2.
My Sister's Keeper by Jodi Picoult
was the last excellent book I read.
3. I like fill-ins because
...they make me think and give me something to post regularly
.
4. In nature I like looking at
the clouds
.
5.
The most honest person (is there such a thing in politics?
!)
should win the US elections.
6. The last time I laughed with all my belly was
...I don't remember
.
7. And as for the weekend, tonight I'm looking forward to
sleeping in my own bed
, tomorrow my plans include
working a DAYSHIFT that I picked up
and Sunday, I want to
go to the church picnic with my husband and kids after the church service
!