I've been having some blogger's block (AKA writer's block) lately and so was looking for a meme or something to work on those days that I don't know what to say. Also, I think this will be fun and make for something to look forward to at the end of each week. So here it goes...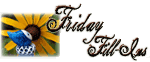 1. Two of my favorite ingredients in a drink are
Malibu
& Sprite/7-Up
!

2.
My kids
often amaze me.
3. You can keep doing that forever, the dog is not
going to stop barking
.
4.
A pinch of courage, a handful of strength, a cupful of love, and a sprinkle of endurance
, mix it all together and voila! You have
a mother
!
5. If I had a yard with a garden, I would love to grow
flowering vines (unsure what kind - honeysuckle, grapes, ivy) on a pergola
.
6.
Making whoopee
is best au naturel.
7. And as for the weekend, tonight I'm looking forward to
going to bed after hubby gets home
, tomorrow my plans include
watching my four year old daughter at her gymnastics show
and Sunday, I want to
get out in the flower gardens and put in the new edging
!
You can go
here
to read other peoples's Friday Fill-in responses and maybe even play along too if you like. Have Fun! (I must admit that this being my first, I did use a couple responses that I read elsewhere because I couldn't have put it better myself even if I tried.)